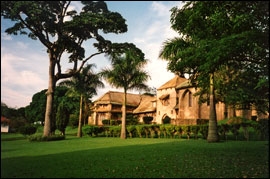 In the early 1990's, the Church of Uganda decided to found a university to rank alongside Makerere (the state university), and new Roman Catholic and Muslim universities. The retired Archbishop of the Church of Uganda, Livingstone Nkoyoyo, brought that vision into reality by founding the Uganda Christian University on the campus of Bishop Tucker Theological College in Mukono, 30 minutes out of the capital city of Kampala.
The oldest seminary in Uganda, Bishop Tucker Theological College was founded in 1923 and is named after the first bishop of Uganda. Most of the bishops of the Church of Uganda were trained at Bishop Tucker.
In October 1997, the University was launched, with the Archbishop of Canterbury, George Carey, laying the cornerstone. Since then, thousands of non-divinity students have enrolled to take bachelor's courses in education, business, social development, and law. Most of them live in dormitories on campus, which are overcrowded with the influx of new students. The Library houses 40,000 volumes and recently added a second library building. In 2000, the Rev. Dr. Stephen F. Noll, from the United States, became the University's first Vice Chancellor, with the Most Reverend Henry Orombi, then Archbishop of Uganda, serving as the University's Chancellor. Currently, the Rev. Dr. John Senyonyi serves as the Vice Chancellor and the Most Reverend Stanley Ntagali is Chancellor.